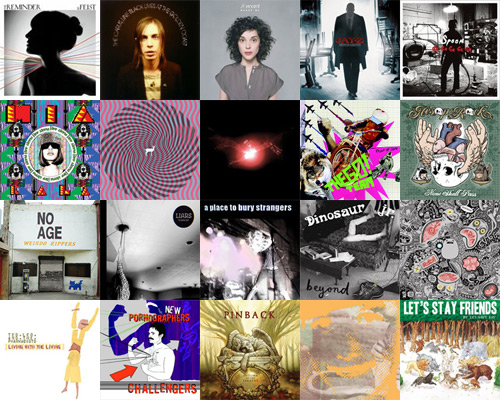 If it weren't for music I probably couldn't make art. I know that it's extremely important to a lot of us here at Invisibleman. So, in the spirit of sharing influences and inspirations, here are my top 19 (+1 EP) albums of 2007, in alphabetical order.

Aesop Rock – None Shall Pass
A Place To Bury Strangers – Self Titled
Deerhunter – Cryptograms / Fluorescent Grey EP
Dinosaur Jr. – Beyond
El-P – I'll Sleep When You're Dead
Feist – The Reminder
The Go! Team – Proof Of Youth
The Icarus Line – Black Lives At The Golden Coast
Jay-Z – American Gangster
Les Savy Fav – Let's Stay Friends – Rock
Liars – Liars – Psych Rock
Ted Leo And The Pharmacists – Living With The Living
Menomena – Friend And Foe
MIA – Kala
The New Pornographers – Challengers
No Age – Weirdo Rippers
Pinback – Autumn Of The Seraphs
Spoon – Ga Ga Ga Ga Ga
St. Vincent – Marry Me
Check out my iMix from these albums.