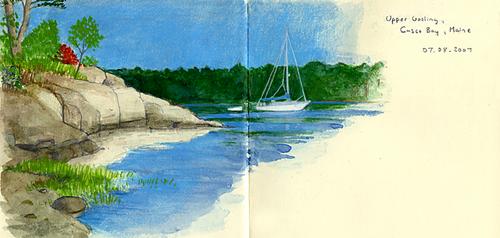 Just after July 4th, Corrie and I spent three days kayaking and camping in Casco Bay, Maine. The trip was truly amazing. Organized through L. L. Bean, our small group of ten was led by two enthusiastic and experienced guides to the Goslings, two small islands, where we created a base camp. From there we explored the surrounding area, practiced our kayaking skills and got very, very wet while waiting out a storm. All our meals were prepared by our guides and all of it was top notch. We even had lobster! In fact I had two!!
A Flickr set our trip can be found here. Most of the images have captions and all have been placed on a map.
The sketchbook image above was begun on the trip but completed at home thanks to some gorgeous photographs taken by one our guides, Gregg Bolton.