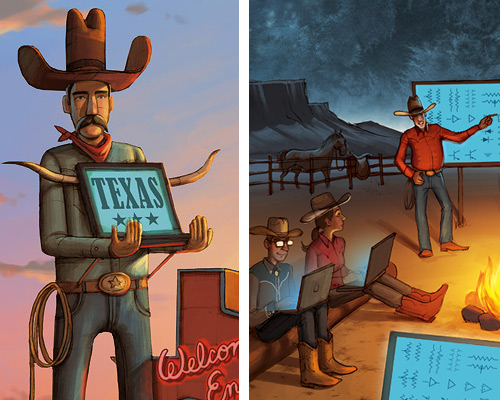 .
I just completed two illustrations for The American Society for Engineering Education which will be running in their flagship magazine PRISM. Above are details of the cover image (left) and the accompanying interior full-page illo. The story is about how Texas is using an innovative partnership between the state and the high tech industry to lure (and better retain) college students into engineering studies. Continue reading to see the full drawings….

I had a bit more time than usual to work these up, and I really think it paid off, as I was able to experiment with texture and lighting a bit more than I am used to on a shorter deadline. I had considered a round-up of engineering students, or a kind of cattle drive, but I rightly settled on the kitchy Texas-scale roadside cowboy beckoning students to study engineering there.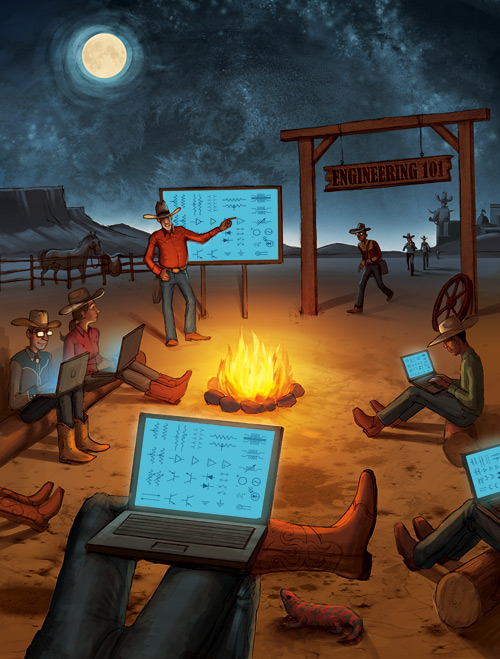 I also was excited to carry the idea through to the inside, imagining a fireside cowboy-cookout kind of engineering class in the desert at night. The contrast of the glowing laptops against the fire was the thing that convinced me to work this up.
The texture for the night sky is almost totally one of my trusty salt-on-the-watercolor scans from my growing hand-made texture library. A few dabs with a custom photoshop brush, and the Milky Way was glimmering over the blue desert landscape.
You can see these on my site here and here.