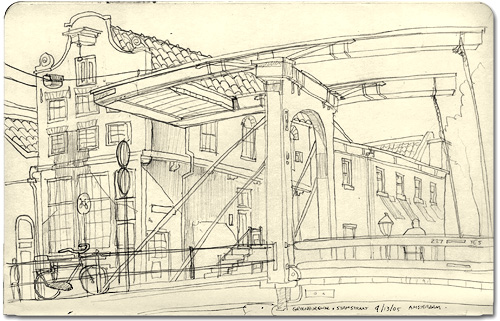 I just got back from my two week trip to Europe. We visited Germany (Düsseldorf and Cologne), the Netherlands (Amsterdam) and Denmark (Aarhus, Copenahgen and Møns Klint). We saw over a dozen museums and galleries, the best of which was probably the Louisiana Museum north of Copenhagen which had a really inspiring Matisse show (more on his tree drawing later).
On our last day we took a journey down to the southeast corner of Denmark to the island of Møn. There we found the most spectacular landscapes of our trip in the 400 foot white chalk cliffs of Møns Klint. A breathtaking end to our great trip.
In addition to taking scads of pictures, I tried to draw as much as possible, and I've created a collection of a few of the sketches to share. Click on the above image to see them, or click here.
I also have to recommend the sweeping epic of a novel, "Cloud Atlas"
by David Mitchell (recommended to me by fellow invisibleman PA). This was my travel book, and it delivered exactly what I was looking for on a good trip. It's an epic that sweeps through time as well as distance. Be sure to check it out.