Posted by: keegan (155 posts)
October 20, 2005 2:17 AM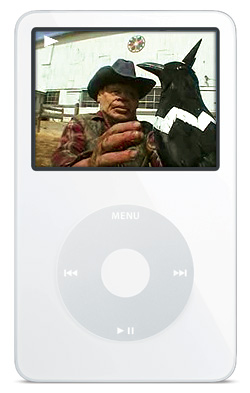 Alas, the stars have aligned and a confluence of fantastical events have led to this glorious post. Halloween is nearly upon us, Apple has spawned millions of video iPods, and nobody has anything to watch on them. Today we are releasing our baby, "Bighead"- neatly encoded for your video iPod (or just to watch on your computer).
A good chunk of the invisibleman team spent a hilarious weekend in Kempton, PA filming and acting in this opus. Hard-earned money was wasted on high quality sausages, tyvek worksuits and chocolate syrup. Another year or so of feverish bi-coastal editing ensued, and it has been languishing in our HQ's armored media vault for a while now. If you love something, set it free...We're releasing this 20 minute film under a Creative Commons license ( Attribution-NonCommercial-NoDerivs 2.5 to be precise), so feel free to share this with your friends- although as the license states, please keep our credits intact, and resist the urge to sell copies of this masterpiece on Canal street out of duct-taped luggage.
The latest version of QuickTime is needed to watch this. It's a big download, but trust us, it's worth it.
DOWNLOAD - bighead_final.mov (88.9 mb)
Share on Facebook