Posted by: keegan (155 posts)
June 21, 200712:00 AM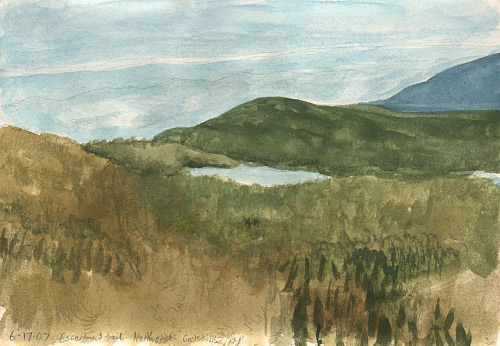 This is a small gouache landscape I did in my sketchbook, looking down onto the Hudson Valley from the top of North Point on the Escarpment Trail in the Catskill Mountains. A small sketch to remember a fun excursion into the woods.
Having not done any backpacking in a few years, Kerry, Paul and I were determined to do a trip early in the summer to get our mojo back. Kerry picked this amazing hike, which was a perfect way to break us back in. And we needed it.
This was such a spectacular geological area, with a whole range of mountains and lakes perched high above the Hudson River valley on steep rocky cliffs. Thomas Cole painted these very views years ago. I don't think I've ever seen anything like it, and it made for a beautiful hike, the way the trail hugs the cliff's edge, constantly rewarding you with sprawling views, each more splendid than the one before.
We camped out near a peaceful meadow, in a shaded grove of pines, and had a hearty campfire to eat our dinner by.
We also saw a huge snake on the trail, which was quickly identified by the flickr community as an Eastern Milk Snake.
Pictures from the hike can be seen here.
Of course my fellow Google Earth nerds, you may look at the placemark of our hike here.
Share on Facebook