Posted by: keegan (155 posts)
February 5, 200611:18 PM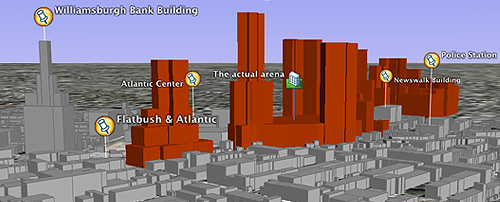 Living in the Prospect Heights neighborhood of Brooklyn, one of the biggest issues hanging over our community is the specter of Bruce Ratner's planned "Atlantic Yards" development. By dangling the prospect of a glitzy new Frank Gehry-designed stadium (to be occupied by Ratner's own New Jersey Nets), the pro-stadium minions have largely succeeded at convincing Brooklynites that it will be nothing but good for the community, and everyone should rally behind it. However, the stadium is just a small part of the whole plan, and this brings me to why you are seeing a post about this on invisibleman.
As a resident who will directly feel the impact of the development surrounding my home, I haven't felt that I have seen an accurate portrayal of the sheer scale of this project, in the context of the existing neighborhood. Enter Google Earth.
I have been majorly geeking out over this amazing program for a few weeks now (as has my brother) , since they released a beta of the Mac version. One of the things you can do is place image overlays on top of the satellite imagery (like the PDF I used), and then draw polygons to extrude your own 3D buildings, knowing their heights (requires the use of the 'Plus' version, which is now available for both Mac and PC).
So I set up a placemark that will allow people to see this proposed development, to approximate scale (using the developers' own figures), in context with the existing buildings. Also, make sure you check the "Buildings" checkbox below the viewer to see the heights of the existing buildings in grey.
So if you haven't downloaded Google Earth yet you can do so here (both PC and Mac): DOWNLOAD GOOGLE EARTH.
Once you have that set up, you can download my Atlantic Yards placemark below...NOTE: if you click on the following link and get a garble of letters, just go back and right-click (control-click on the Mac) on the link, and save the file to your Desktop, then just double-click on the downloaded file.
DOWNLOAD THE ATLANTIC YARDS PLACEMARK
Share on Facebook