Posted by: stuart (45 posts)
December 13, 2007 8:10 AM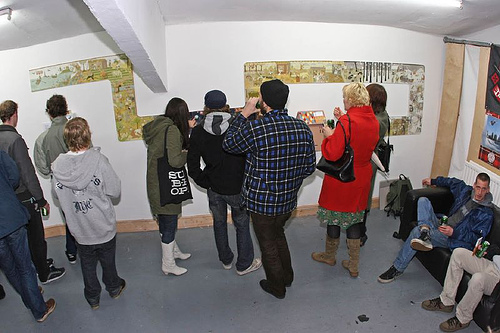 So the show, "Never Been" at Projekts MCR, is finally up, and the opening night was last Friday.

"A Gosling" is a 16 page A6 size full colour mini comic I created in mind for viewers to buy at my exhibition. The comic is laser printed using the same heavy Heritage paper "Milorad" was printed onto, is machine stitched and has a 260 gsm dust jacket. The story is again influenced by my love for Eastern European folklore and revolves around a boy trying to convince his Dad to let him keep an abandoned Gosling he found whilst out working in the fields. The book is available from "Never Been" at Projekts MCR for only £2 from it's own vending machine, or available from me direct via paypal. Contact stu@stuartkolakovic.co.uk for P&P details.
This is the Gosling hut in construction, made using MDF, a coin mech I ripped out of an old cigarette vending machine and the help from my friend Lefty sneaking me into his university woodshop. Note the can of Redbull in the background- you don't want to know how many of those I downed last week...
Share on Facebook