Posted by: keegan (155 posts)
November 20, 2005 1:38 AM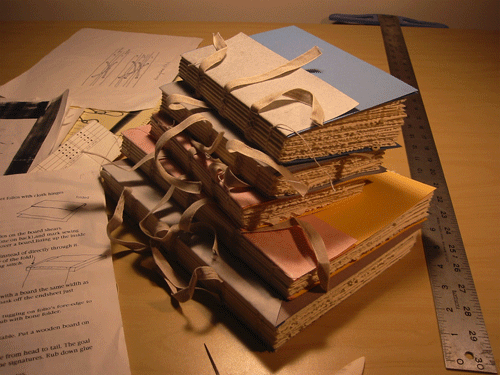 One of the things on my to do list the past few weeks (umm...years?) has been to make some of my own sketchbooks with all of the nice paper I had imported from London's Faulkiner Fine Papers. They used to sell the BEST sketchbooks, the "Rivoli", when I studied in London back in the early 90's. At some point, the fellow who made them went out of business, and they haven't been seen since.
My efforts to recreate the glory of these sketchbooks have been mocked for years...But now that I have been schooled in the foundations of flatback case bookbinding (Thanks Nancy Loeber & CBA!), and I am in possession of a large stock of Rives' "Artist" paper (the successor to the famed Rivoli paper used in Falkiner's sketchbooks), the moment is soon approaching.
I am making a batch of these sketchbooks, as kind of a "beta" release to see how they hold up in the field. I'm reasonably sure that I screwed all of these up to a certain degree by gauging the paper grain's direction wrong. Any errors in these sketchbooks will be corrected in future versions!
These books currently consist of a series of signatures of paper stitched togerther (Herringbone stitch), with the endpapers and book-cloth hinges sewn on. The next crucial step is a meeting with the mighty and unforgiving guillotine at CBA, where they will all be chopped into neat, flush proto-books. Then I need to build their cases with binder's board and cover them with bookcloth. Then these neatly chopped text blocks will then be glued into their cases, ready for finishing.
I was quite delighted to see so many posts late on a Saturday night, that I had to post a shot of these books in their naked, pre-case state. When importing the photos, I thought it wise to make an alternating "poor-man's-3D" view of the books, as I am fairly drunk after returning from a neighbor's fun party. Enjoy.
Share on Facebook