Posted by: kerry (57 posts)
March 17, 2006 1:15 PM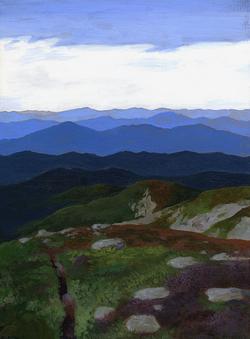 This small painting is actually a study for a much larger painting that will be placed next to the front door of my brother's home in Holderness, NH. The final painting will be 31"x45". This study is 11"x15". Ordinarily I do all of my painting in oil: the initial drawing or rub out, the underpainting and then the final glazes. In this case I am doing the underpainting in acrylic and will finish with oil glazes on top. What we are looking at here is the acrylic underpainting of the study. My next step will be to grid out both panels and transfer everything to the larger panel. When that is done I will go into the study with oils and then repeat (sans mistakes) on the larger panel.
Once the oil has dried on the study I will make another post and show the results. I am hoping to have the large panel painted and in NH by early summer. Till then click on the study to see a larger image.
I needed the large panel to be a specific size and be as sturdy as possible so I special ordered it from Prospect Heights's own, Simon Liu Inc. Fine Painting Supports. The panel was not cheap but the expense was worth it. Simon Liu produces incredibly high quaility painting supports and my panel is no exception. Simon Liu also has a well stocked art supply store in the back of his workshop. If you are in the neighborhood stop by.