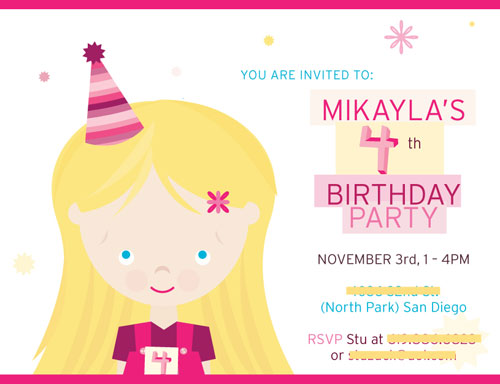 This is the invite i quickly designed for my nieces upcoming 4th birthday party. Unfortunately the invites never made it to her friends school mailboxes, as her school was closed on Monday (and has been ever since) as the school is located near where the fires are burning in San Diego, and all the roads are closed. I am supposed to fly out there next friday… I guess we'll see how it goes. She was so excited to see herself on an invite. (Her actual quote: "I AM SO EXCITED!") Btw, she really is that cute and sweet and blonde. 🙂
Also – this weekend (and last weekend) was POST (Philadelphia Open Studios). Brian and I participated from 12-6 on Satuday. It was busy and fun. (So busy and fun that i didnt get to take any photographs!) Anyway we got some great feedback and I even got a lovely mention on a local design blog: design-phan. Thanks Caroline!
Also – i have 2 pieces in this toy art show at philadelphia's city hall. The opening reception is next Thursday from 5-7pm. I'm not sure if NY has something like this, but in Philly, it's a great opportunity for artists. (Especially since Philadelphia closed it's Office of Arts and Culture in 2004!) How crazy is that?!?