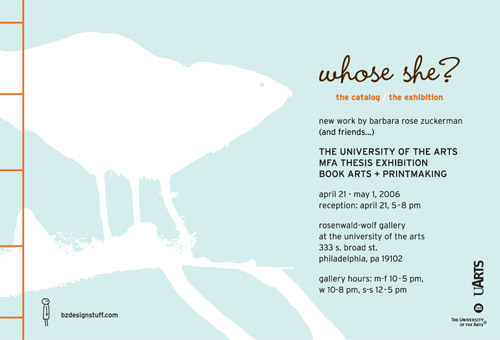 here is an invitation to my thesis exhibition. if anyone is in philadelphia between april 21 and may 1, be sure to spread the word and stop in! it should be an interesting show.
the university of the arts, mfa book arts + printmaking, thesis exhibitions
chapter1: April 21 – May 1 and chapter 2: May 5 – May 14
Rosenwald-Wolf Gallery, 333 S. Broad Street , Philadelphia, PA 19102
Gallery Hours: m-f: 10 am – 5 pm / w: 10 am – 8 pm / weekend: 12 pm – 5 pm
The MFA Book Arts/Printmaking Program offers advanced study in studio arts, focusing on the book as a vehicle of artistic expression and printmaking in the context of the narrative. Students explore the book as an art form that incorporates two-dimensional as well as three-dimensional structure, time and sequence, text and image.
to see the group invitiation/card, click the image below.